Our mission is to love Jesus, love people, and make a difference. Each month we are committed to making a practical difference in the world.
In September Next Level Church has the amazing opportunity to learn more about an issue that is not just found in other areas of the world but also in our back yard. Human trafficking is the fastest-growing criminal industry in the world, generating more than $150 billion USD every year.
For the month of September we will be educating ourselves on this issue and taking action to change this in our area and around the world.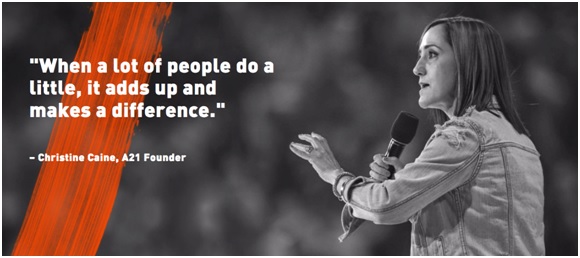 What can you do?
Educate –
Definition: Human Trafficking is the illegal trade of human beings. It's the recruitment, control, and use of people for their bodies and for their labor. Through force, fraud, and coercion, people everywhere are being bought and sold against their will–right now in the 21st century.
Types of trafficking include: Sex Trafficking, Forced Labor, Bonded Labor, Involuntary Domestic Servitude, and Child Soldiers.
There are 45.8 million slaves in today's world
Only 1% are ever rescued
Check out organizations and resources available
The Virginia Beach Justice Initiative is a faith-based local organization with a purpose to end human trafficking in Hampton Roads through awareness, prevention initiatives and intervention strategies that meet the needs of trafficking survivors. They have the privilege of introducing trafficking victims to the possibility of a new beginning through advocacy and their innovative jail program.
The A21 Campaign is a nonprofit organization fueled by radical hope that human beings everywhere will be rescued from bondage and completely restored. They are the abolitionists of the 21st century. They work with individuals to free slaves and disrupt the demand. They believe human trafficking is destroying lives, but freedom will have the final word.
The International Justice Mission understands that in much of the developing world, people are not safe.The justice systems that should protect them from violence, don't. Why?When a justice system doesn't work, crime increases. IJM partners with those working in the local justice system to help victims of violence. As they do this, they identify weaknesses in the justice system and work together to help strengthen the system, helping protect the poor and preventing violence from happening in the first place.
Know the signs of slavery
Advocate –

Sign petitions like the "Put Your Name on the Line" found on the IJM website. They only take a couple of minutes to fill out and have the potential to make a difference in the lives of many people around the world.
Join the 100 postcard challenge by getting 100 people to sign IJM's Abolition Postcards. By doing this, you will show your members of Congress that people in your state care about abolishing modern-day slavery, and grow the anti-slavery movement in your state by adding more voices to the cry for justice.
Write elected officials! Don't know exactly who to write? Check out this website that allows you toenter your address and find your specific representatives.

Take that information and reach out to your officials and let them know that you want them to focus on the issue of Human Trafficking in Hampton Roads and around the world.
The IJM Congressional Scorecard shows how your lawmakers have supported efforts to help men, women and children enslaved both at home and abroad. If we want our government to act on human trafficking issues—and rescue the 45.8 million slaves in today's world—we need champions in Congress to fight for crucial resources and keep pace with this evolving crime.

Commit to prayer and advocacy by stopping to pray for the fight against Human Trafficking as a church on September 21st at 2:10PM. Then pick a way to advocate!

Pray

Pray for those enslaved by human trafficking, for freedom and reconciliation.
Pray for the many amazing organizations fighting against this issue of slavery.
Pray for the Lord to reveal ways for you and your family to Make a Difference in the lives of those affected by human trafficking, even if seemingly small.
Support –
Fair trade! By purchasing fair trade items such as the ones found at encouraged in heart, it empowers those who are at risk of being or have been trafficked by creating a fair and sustainable income and working conditions!
Volunteer! VBJI is an organization right here in the 757 that you can connect with in many different ways. Check out their ways to get involved right here in Hampton Roads. They even have a Tattoo Outreach!
Give financially! Pick one of the many reputable organizations including the A21 Campaign, IJM, and VBJI and support the work they are doing with a financial gift.
In our society we have all of the resources to be educated on what is going on in our world so let's Make a Difference this month by learning about the issues and taking action. For questions about this month's Make A Difference email Amanda at mad@nextlevelchurch.net.