Stats:
– Married to Monica
– Dad to Reese and Hayden
– Lakers fanatic
– Enjoys Chipotle, blogging, and loves going to the movies
– Twitter 
– Blog
Rob has been in ministry since he was 18 years old. After fifteen years of youth ministry Rob felt called to plant a church.
Rob is not what you would call a risk taker. He would eat Chipotle twice a day and never get sick of it. He likes a predictable schedule. He wears plaid on an almost daily basis. Yet, in the summer of 2011 Rob felt like God was challenging him to step out of his comfort zone and plant a church. After a year of wrestling with this call Rob finally took the plunge and started Next Level Church.
At the time he had no financial backing.  His only debt was his house and with the support of his amazing wife he sold their home and moved in with his parents. At the first interest meeting for Next Level Rob said, "I have nothing to offer you, but Jesus. I have no building, and no staff. All I have is Jesus." The scariest part about starting a church was that he didn't know who was going to lead admin, Tots and Kids, and worship. Rob literally had nothing but Jesus to offer.  Since day one, God has proved that's all we needed.
Stats:
– New York Native
– Concert fanatic
– Enjoys helping others, spending time with friends, and watching good TV.
– Email
Before joining the Next Level staff Amber was an elementary school administrator.
After the first interest meeting at Next Level Rob received a phone call from Amber's husband, Ed. He wanted to go to lunch and ask some questions about this new church. Rob loves eating lunch so he willingly accepted the invitation. At the lunch Ed introduced Rob to Amber. Now this lunch was an answer to prayer. For one, Ed told Rob that he knew how to run sound. Before Rob met him Next Level didn't have anyone who even knew how to turn on a soundboard. For two, Amber tells Rob that she is a former elementary school administrator who is now a stay at home wife looking for things to do. Rob thought "praise God from whom all blessings flow!"
Today Amber oversees our Family Ministry (Tots, Kids, and Students). Amber is a blessing from God. If you see her give her gold bars, a high five, or bless her by not giving her a hug. She has a thing about hugging people.
On December 20th, Amber's husband, Ed, went to spend eternity with Jesus in Heaven. We will forever be impacted by the legacy Ed left and are thankful for being a part of his life.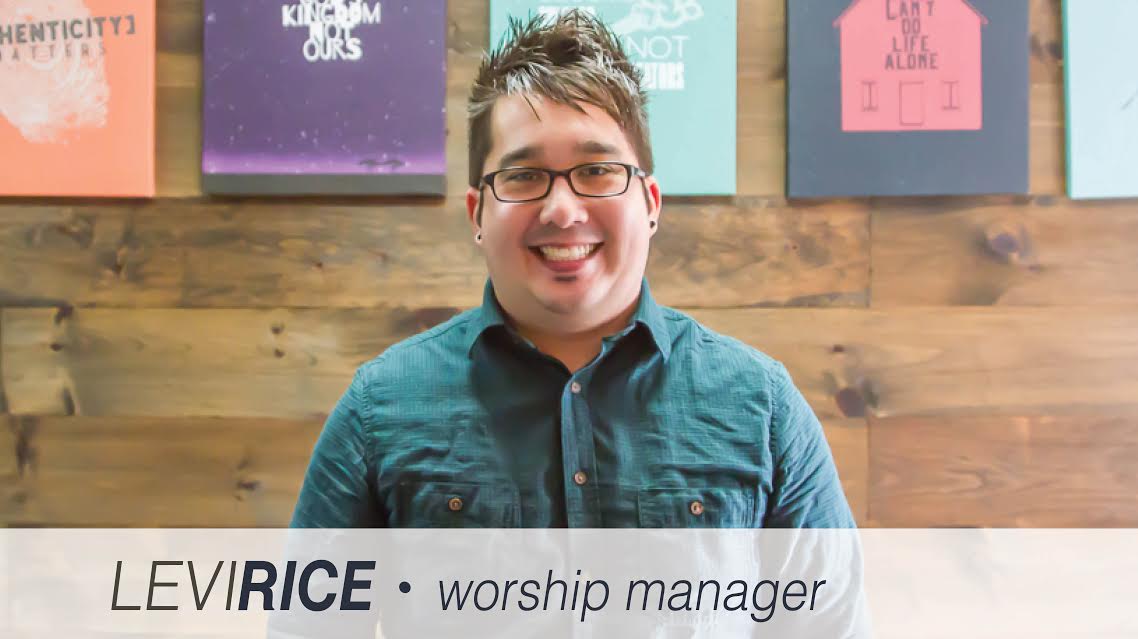 Stats:
– Happily Dating…back off ladies.
– Dad to Ralphie…his dog.
– Coffee fanatic
– Enjoys guitars, playing Pokèmon GO, and talking to Ralphie like he's a human.
–  Email
Before joining the Next Level Staff Levi was a manager at Starbucks.
Levi joined the Next Level staff in June of 2016. Levi has had a dream to be in full time ministry since he was a wee lad. He has volunteered in leading worship for years, but dreamt of leaving the corporate world to do full time ministry. Two years earlier, Levi's brother started coming to Next Level. In March of 2016 Next Level had an open position for a Worship Manager. Levi's brother recommended him. After a few meetings with Rob, Levi started the interview process. Levi has stated that the interview process at Next Level was the most intense he has ever experienced. He passed with flying colors and joined the team in June.
Today Levi oversees our worship and production teams as well as our social media pages. If you see Levi give him Starbucks coffee, the coordinates for a really hard to find Pokèmon, or a compliment on his hair. Pastor Rob may have hair envy for Levi's mane.